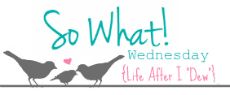 Linking up with my girl
Shannon
over at Life After I Dew again this week for another edition of So What! Wednesday.
This week I'm saying a big So What! if..
I am still working on BG's first year photo book. I kid you not. And I've started her third with the hopes of "keeping up" but I'm two months behind. Super.
I spent the entire weekend with a precious newborn and did not walk away with a case of "the fever". I actually had it worse before the time with the newborn. Now? I'm reminded of how cool my two year old is and I'm not sure I'm ready for the newborn stage again.
I was actually secretly glad my girl woke up in the middle of the night last night. The first time. I never get to cuddle with her so I soaked it up. Now the second and third time were a bit much...
I'm finally feeling like I'm making some real friendships three plus years into blogging. I so love you ladies.
I'm sucking it up at Weight Watchers this go round. Seriously, it's bad. And deserves a post of it's own
.
What are you saying So What! to this week? Link up with
Shannon
and share!