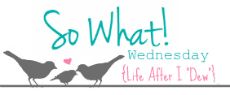 It's Wednesday (thank goodness) so that means it's time to link up with my girl
Shannon
again. My brain hurts so bare with me. Today I'm saying So What...
-If I stayed up way too late watching Teen Mom last night. I can't believe I don't have that drama to tune into weekly anymore. Also? they make me feel like I've got all my ish together. Also? I want to adopt all of those kids. Especially Leah because she reminds me of my sweet girl.
-If I'm completely bonkers for Big Brother this season. I'm hardly on Twitter anymore but I straight up have the spoiler timeline running constantly. I cannot get enough.
-If I've slacked off on my running big time the week of the race. Way to go killa. Please let me survive this run on Friday.
-If I've hit the point in this move where I just want to be at the new house. Thinking of the good byes ahead is making my stomach hurt. I just can't...
-If I am so terrified of the birds at the lake that I seriously wonder who will save my child if one of them gets her because she got to close. She might be on her own on that one...
-If I'm only partially kidding about that top one. This girls does NOT do birds.
-If I've eaten at least one king size Snickers bar each day for the last, heck, I have no idea. It's been a while. I'm a stress eater. So I'm eating a lot these days. Don't care.
-If I don't really get Pinterest. I like it, don't get me wrong, I just don't get it. I don't think I'm doing it right.
-If I can't quit shopping for Fall clothes even though I cannot buy a thing. Man... this stinks. I need to win the lottery. Or play it. Whatever.
That's it. That's all I've got. Y'all have a great day ladies.