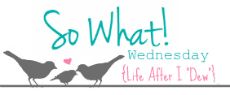 Today I'm linking up with the awesome
Shannon
from Life After I Dew for
So What Wednesday
. Because I can. This week I'm saying so what...
if I've already started packing for our beach trip next weekend? And we don't leave til next Thursday? I might be excited okay.
if I signed up for Weight Watchers again because I don't have any willpower when left to my own devices. Oops.
if I'm super disappointed we'll be out of town for one of BG's best pal's birthday parties. I'm super bummed we can't go.
if I considered (for like half a second), coming home early from our beach weekend just to make said party. It's her best pal y'all :(
if my timeline for Baby #2 is quickly approaching and I am still not on board quite yet...
if I've gone to bed at 5:30 pm and 8:00 pm so far this week. The headaches have been out of control lately.
if when I get my first cavity, I get three at once. And then get them all filled at the same time. Go big or go home I say.
if I'm still not sure I'm completely okay with all the big changes going on these days.
What are you saying
So What!
to this week?