I'm back and linking up with
Shannon
again this week. I do love a good reason to get it all off my chest. Thanks Shannon!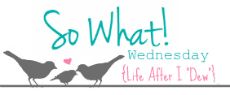 This week I'm saying So What if...
That early packing bug I caught? it disappeared. Now it's the day before we leave and in true M form, I'll now be running around like a chicken with my head cut off tonight. This is was more my speed...
I'm starting to get a slight sense of "I so don't wanna be locked in the car with a toddler for five hours tomorrow". Because, well, I just plain don't want to be stuck in a car for five hours. Fortunately we have that amazing dvd player in the car now. Now I'll just have to be stuck listening to Dora for five hours. Fun.
I found my blood boiling early this morning when I read my pal AP's post. What is wrong with people that they get so dang snippy and judgy? And what on Earth is wrong with wanting a break for five seconds from parenting?? I want a break daily. It's why my child goes to bed at 7:30 (love her dearly).
I got back into running and loved it... and have totally slacked back off. Boo hiss. Must get back on that.
I cannot get enough of this song or this song. Like I could play them on repeat. If the radio stations weren't already doing that. Which they are. Which means I'll be tired of them in a week.
Everyone around me seems to be in a mood lately. It's May people. Which means it's almost summer. How can people be pissy during the summer?? I don't get it.
I need a vacation... Just a few more hours...